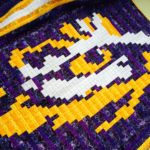 This one was super fun to make! We have some friends who are HUGE LSU fans, and dog-gonnit, they needed an LSU quilt. So I set to work using the LSU tiger eye. I took the image over to a free online cross stitch generator. This is the image it generated:
I took this and drew out a grid so I could calculate out my strips. I used 1-1/2 inch cut strips in 3 different purple batiks, 2 yellow batiks and one white batik. All the batiks were purchased in Indonesia. Once I had the tiger eye complete, I added strips to the top and bottom to frame out the quilt and add length. Here's the finished quilt.
To get the illusion of a 1 inch by 1 inch grid, I quilted in the ditch vertically and horizontally. This makes the quilt appear to be individual squares, but it is actually strips. Here's a close-up of that beautiful tiger eye.
Here you can see how the stitches really create the grid effect.
I also wanted the grid to really come through on the back of the quilt. I used a flat black backing and light grey thread. The grid really pops.
The batiks here in Indonesia are absolutely stunning! I've managed to collect quite a stash over the last two years. Hand finished binding was a must.
I see another pixel quilt in my near future. Loved making this quilt!